Metal Gates and Railings
Metal Gates and Railings
Multi-installations specialise in the design, manufacture and installation of steel balustrades, custom handrails, metal gates and grills. We can provide extensive range of steel fittings and fixtures that add aesthetics and safety value to any of your requirements.
Selecting the right handrail is really important, often a staircase is a central and prominent structure and it can become an attractive focal point with the right design.
We are also a bespoke gate manufacturer offering a wide range of gate types and designs at our Stanmore based workshop and fitted on site by our onsite fitting team. It comes complete with hinges, bolts and locks to suit your requirements. Every gate can be fitted manually or for automatic operation.
Our engineers use the latest and safest equipments for steel works to ensure a high precision product and high quality deliverance.
Our products are inherently strong and offering a robust line of defence. Metal railings combines aesthetic charm with the ability to deliver an imposing perimeter security solution. The benefit of using metal railings is that it adds a high level of security at the same time adding a decorative feature.
Our team of dedicated and trained professionals will ensure the product you buy from us not only fits but is also fit for purpose.
Completed Projects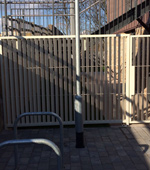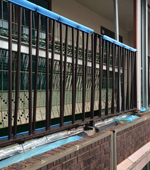 Project :

Great Eastern Quay

Client :

Notting Hill Developments Ltd

Main Contractor :

Gallifordtry Partnership Southeast
Click here to see Photos....