Bi-folding doors
Bi-Folding Doors
What are Bi-Folding Doors
Bi-Folding doors are normally available in UPVC and Aluminum and mostly have two or more panels.The door open up concertina style to create a fantastic, wide open space and because of the way they open they use hardly any space at all.
We manufacture and fit sliding bi fold doors in steel. Not many in the UK manufacture the bi fold door with stainless steel.
These doors are used where the width of the door is large and space is insufficient to provide two-leafed hinged panes. These Bifolding doors are majorly used to provide a feeling of openness and sense of large space to the current space condition.
Why Bi-fold doors
Strength is one of the most important factors when it comes to choosing bi-Folding doors. The frames have to support huge panes of steel or glass, and be durable enough to withstand constant use and bad weather.
Our stainless steel bi fold door come in a range of RAL colors and is designed to complement the property.
Whether for a new build, or to renovate an existing building, we will create the perfect folding doors for the job, finished and powder-coated in a color of your choice.
Completed Projects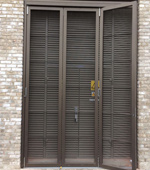 Project :

Great Eastern Quay

Client :

Notting Hill Developments Ltd

Main Contractor :

Gallifordtry Partnership Southeast
Click here to see Photos....